DESERT SAFARI
For me, all life is an ADVENTURE!
Adventures are interesting, fun, unforgettable and usually the best photos and videos are almost always while trying out a new exciting activity…
But very often the price does not prevent us from having a phenomenal day, because many of the ADVENTURES can be quite EXPENSIVE. Still there are some great things that you can experience without paying too much, and one of them is definitely the DESERT SAFARI WITH A SUV IN DUBAI.
Welcome to DUBAI
When tourists go to Dubai, they usually end up in the numerous tourist centres or admire the modern buildings, but in the vicinity of Dubai there is an opportunity to admire the power of nature and to experience a real desert adventure…
But first how to book the best tour for you?
Desert Safari is very popular in the Arab World, but prices for a 3-hour adventure can reach up to $150 per person…
www.desertsafaridubai.com/
There are 10 websites that offer huge discounts:
https://www.desertsafaritours.com
Prices can vary depending on the season. In Dubai there are two seasons, warm and warmer, from late November to February, March is warm and prices are higher, while in the summer months from May to September prices are significantly lower, but temperatures significantly higher. We were in March and booked a private car. The best thing about booking a private car is that you just give your location in Dubai and the car comes to pick you up and at the end of the exciting day it brings you back to the same location.
We made a great choice with DUBAI EVENING SAFARI for a special price of only 105 dirhams or approximately 1400 denars per person for a 4-hour Desert Safari.
ADRENALINE DESERT SAFARI
The feeling was amazing and I think I started to get a little jealous of our driver, the Pakistani Adnan, because he experiences this every day… But as I commented that he has the best job, Murphy would not be Murphy if I did not jinxed him…
…and in the next 20 minutes I was not so jealous of him.
Ahmed explained that the tire got out due to yesterday's heavy rain, but as they say, a positive thing can be found in everything, so we used the break for a DESERT PHOTOSHOOT.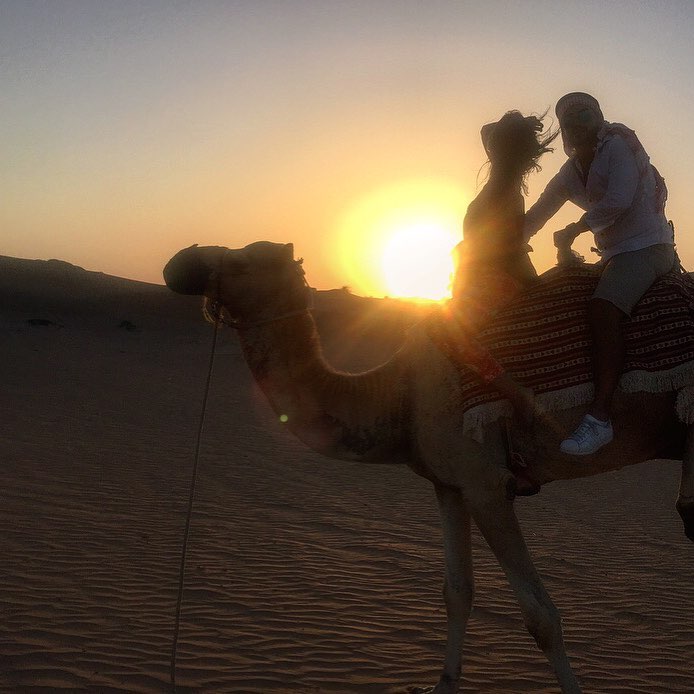 Some people do everything for good frame, so mysteriously that day the disappearance of my friend from Serbia, Mina, was reported.
While we were trying hard to get good photos, slowly but surely our host prepared the SUV again… …and we continued with, I can freely say, the best ride in my life…
ARAB NIGHT
PERFECT END OF A PERFECT DAY
The tour also included the possibility of riding camels, and the opportunity to take some of the most beautiful photos at sunset…
Perhaps the most beautiful part of the desert safari is that when the rally and camel riding are over, almost all companies provide the opportunity to have in your package a traditional Arabic dinner where the food is provided by them, you just pay extra for a drink if you are thirsty… and the special Arabian desert flavour is spiced up with oriental belly dancing…
CONCLUSION:  Definitely, if you visit Dubai, I recommend this phenomenal adventure for a very affordable price, and through this adrenaline experience you will meet a different, rarely shown face of the Arabs.
DESERT SAFARI
TRANSPORT = 0 MKD
TOUR = 1430 MKD
HIDDEN COSTS = 0 MKD
TOTAL = 1430 MKD only