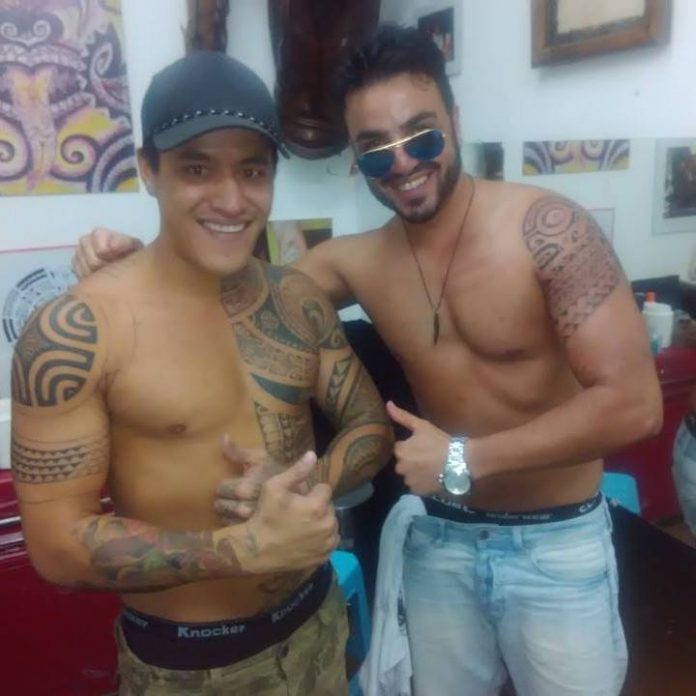 POLYNESIA – WHERE TATTOOS ARE LOUDER THAN WORDS THE IMPORTANCE OF TATTOOS IN POLYNESIAN CULTURE
Through my travels Around the World I have learned many new things and with each new country I visited I changed a little as a person. I came to Polynesia with great expectations and I left with even greater impressions… Culture, people like no other in the world!
And my exploring spirit started with admiring their tattoos, wherever I went, with whomever I talked to, they all had tattoos and according to the pride with which they showed them, it could be concluded that they are very important to them and certainly one of the main actors in their Culture and the Mysterious Polynesian Peace, so I decided to study what tattoos mean to them and what role they play in their lives, so I spoke with James Webster from the Polynesian Centre for Culture.
All of Polynesia is famous for its tattoos, but the best Tattoo Masters in the region and some of the best in the world are in Tahiti. In fact, the word TATTOO comes from the Polynesian word "tatau", meaning "to write".
Tattoos are louder than words, even than some deeds, because they stay with us for a lifetime and in Polynesian culture they occupy an important place, especially among the male population, they are a manner to show their pride and symbol that they have become men.
FUN FACT:
Men who did not have a tattoo were not allowed to enter the tribal meetings!
Searching for TATTOO ARTIST
I decided to get a tattoo in Polynesia, a big tattoo, but I was not ready to go bankrupt. In Tahiti tattoos are extremely expensive, in the most elite Tattoo Salons the prices reach up to 4,000 dollars for tattooing the whole leg, while for what I wanted, to tattoo only the shoulder, the price was somewhere between 800 and 1300 dollars, depending on the tattoo artist.
My friend wanted a small tattoo, so even though everyone was overbooked, she quickly got an appointment for 400 euro. But as time went on I worried that I might not find an appointment for an affordable price. However, I got lucky because the locals directed me to the cheapest place for tattooing – their local farmers market and there I met a local with a unique name TOA.
In many countries in the western, modern world, tattooing is for decoration and is like fashion, changing over the years. While on the other side of the world, especially in Polynesia, tattooing has a centuries-old tradition and is deeply connected to their culture. Each symbol has a special, deep meaning and tells about the challenges that man has faced, what is most important to him, what are his goals, his vision…
Through tattoos they connect with their ancestors and believe that the SYMBOLS give them the opportunity to use the knowledge, power and wisdom accumulated through the generations, and with the magic ink they receive protection from their guardian angels who protect them from evil spirits and life failures…
The Tattooing Process
The greatest difference in the process of tattooing in Polynesia compared to the rest of the world is that usually in Europe you get to choose a certain design and know exactly what will be tattooed on your body, while in Polynesia the whole tattoo design is only in the mind of the tattoo artist! Of course, they take into account some of the things you like, but the conversation is mainly about what matters to you, what your goals are and what you want to become in life…… and when the place on your body for the tattoo will be determined – tattooing begins, where trust in the artist should be crucial.
I soon found out that I was one of the few foreigners who got a tattoo on the market, and the story was quickly told that a tourist from Europe would pay with money and sneakers, so locals lined up to see if the master TOA would deserve the sneakers…
Meanwhile, my friend from Poland quickly got a small but beautiful and interesting tattoo at one of the most famous tattoo artists for 4 times the price I paid! As for myself, I still have to admit that although I was sceptical, the anonymous master from the farmers market with a unique name TOA turned out great…
MEANING OF TATTOOS
In Polynesian culture they have symbols for things that are important to them, such as a symbol of PEACE, FAMILY, COURAGE, ADVENTURE, WISDOM, STRENGTH, PROTECTION, LOVE… and what is particularly interesting and what makes tattooing for Polynesians so UNIQUE is the fact that for them TATTOOS are like an oath that they will live according to the symbols they have on their body!
So I tattooed what is important to me, adventure, family, vision for the future, and symbols for the 5 children I wish to have…
I am sure that I will have a few more tattoos in my life, but it is a special pleasure and honor for me that the first lasting memory has such a strong meaning in my life and that it is from the most powerful and calm culture in the WORLD!!!