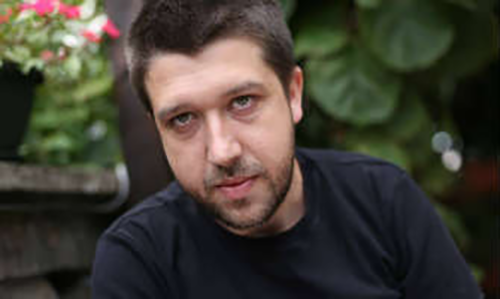 The first stand up comedian in Macedonia, an internet sensation, with over 15 million views on YouTube, with over 700 live performances in Macedonia, Serbia, Croatia, Slovenia…suffered from measles in 7th grade, had a tour in Australia, had the first kiss at age 24, actor and scriptwriter in 4 TV projects, caught a live lizard at age 2, milked a cow at 11 and rode a bull at 9.
And yes…he has over 15 million views on YouTube and over 50 roles played in theatre.
The challenge for Marjan in the next 120-episode project called MARJAN GJORGJIEVSKI LIVE is to have 120 new roles such as house painter, waiter, banker, broker, father, hairdresser, construction worker, son, insurance policy provider, doctor, ajvar expert, actor, taxi driver, scientist, map vendor, distributor, cashier, warehouseman, parking inspector, travel guide, shift manager, plumber, furniture fitter, chef, physical education teacher, stockbreeder, laboratory assistant, commercialist, security manager, call centre operator, football referee, real estate agent, baker, butcher, pharmacist, journalist … fierce geezer 🙂
Documentary film series MARJAN GJORGJIEVSKI LIVE, in different situations and different locations, with random and purposeful guests.
A MOVING STAN UP.
for the first time in Macedonia!
And let's not forget: Marjan Gjorgjievski with his stand up project has over 15 million views on YouTube so far!
It is easy to make comparison in order to see the difference 🙂
Buy now, in the following 5 minutes…:)
(placing orders for topics, promotion and prices in inbox)