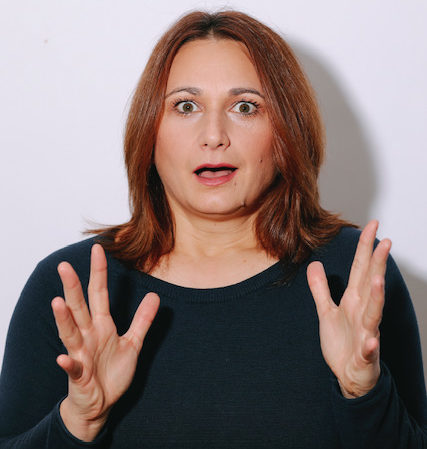 Biljana Dragikjevikj – Projkovska is one of the most impressive and significant Macedonian actresses of the 21st century.
Favourite collaborator of actors, directors, technical staff of the teams in which she works.
Actor – character.  Analyst – Romantic. Precise – emotional.
Born in 1974, she has graduated from the Secondary Music School in Skopje and the Faculty of Dramatic Arts at the Department of Acting in Skopje.
She is part of the Drama Theatre ensemble with a range of roles, different characters, miniature creations in over 40 theatre projects. Guest at several MNT and other ensembles' projects…
At the beginning of her artistic career, she worked on several children's plays as co-director of projects with children.
She has won several awards and recognitions such as ACTOR OF THE YEAR, recognition from EKRAN weekly magazine, awards for Best Role in the plays Life is Beautiful (Zhivotot e ubav), Closer (Poblisku), Last Macedonians (Poslednite Makedonci), Woman's Body (Teloto na zhenata) at various festivals in Macedonia and worldwide.
She has starred in several television and TV projects, most notably of which are the roles of Dzipche and Letka in the children's TV show The Magic Wheel (Volshebnoto trkalo), Sashka in the TV series Sashko and Sashka and the role of the dog Petko in the PET PLUS TV project.
She works on more than 20 projects as assistant director, project coordinator, casting director.
Our pleasure to enjoy into the cooperation with Biljana and the results of her work is the BUSHAVI GLAVI project which is perfectly analysed, selected and implemented. Biljana's communication and organizational skills, with her approach and dedication, have made the BUSHAVI GLAVI project one of the most significant projects of NASHA TV currently being broadcast.
Our Bica is our (NASHA) love.