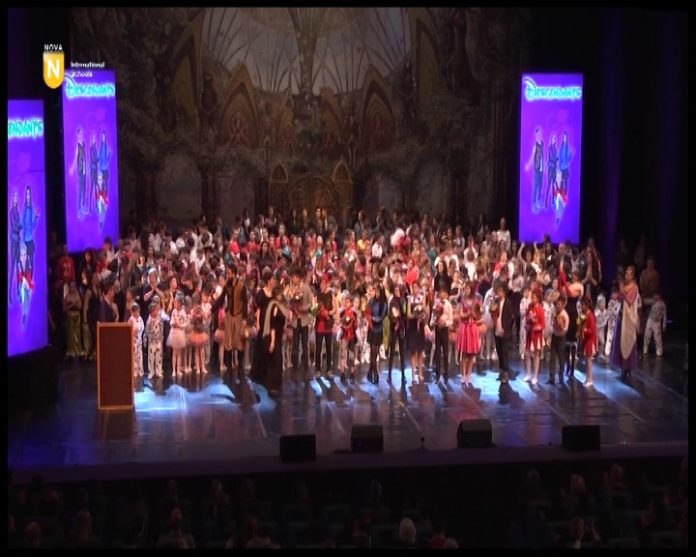 Fantasy, wars, nutcrackers, princesses, realms… flowers, snowflakes, descendants, galaxies… worlds where NOVA's shows take you. Journey that is allowed only for those travellers who want to dream together with NOVA's students. And how can we become travellers to these exciting spectacles?
Performances made with a lot of effort by a lot of people. Perfectly prepared, everything in its place, with style, knowledge and skills. Only stage magic can come from this kind of work. .
How can one not want to perform, sing, dance when dreams come true in this school, the stage is served in order to show what they have learned, what they dream about.
How can someone not want to be part of this kind of journey?
NOVA's students declare wars to the stars because they believe in their force, that in the fight between the good and evil, the good will prevail. They are not afraid of the galaxy far, far away nor the mystical force because they are all united in harmony and unity, happy life and freedom in the galaxy called NOVA. These students shine with all their light giving wonderful performances.
In the past years over 15,000 people watched these shows live, and tens of thousands watch them on television or social media.
The entire concept of the show is a confirmation about the approach towards the educational programmes of NOVA. Music, dance and art as subjects are important to them and they are part of the school curriculum and without them the educational road of these students would not be completed. Therefore the NOVA's successful story will continue, spectacular and credible as it is. Lucky us!
Just image the excitement prepared by the students and teachers in NOVA. We just have to wait and see. Sweet sorrows that end with triumph, both personal and collective, when they hear the loud BRAVO!
This is the moment to live in NOVA.